Web
As the most participatory form of mass speech yet developed, the Internet deserves the highest protection from government intrusion. – Judge Dalzell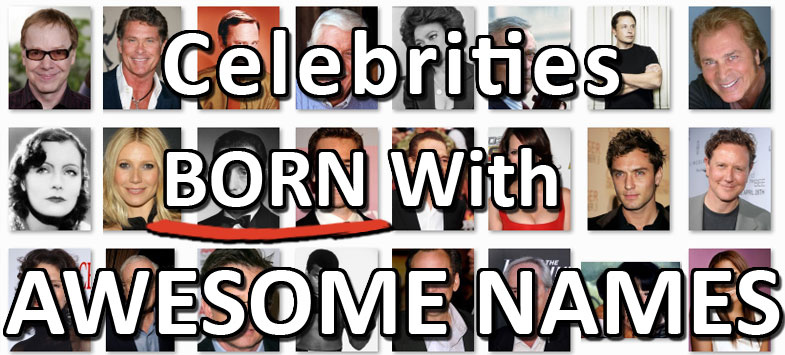 In the world of business or entertainment, printing your ordinary name on a business card looks like you're handing out a sample from the printing company. That's one reason why celebrities use a stage name to make themselves seem more interesting. The luckiest of us who are born with awesome real names don't need to worry so much. Take a look at some famous names you thought were stage names, but are in fact real birth names.
---
Using a stage name has become common place and quite often the famous names we've grown to know and love are not the celebrity's real names at all. In the world of entertainment and business, perception matters and your name can have a large impact on first impressions. Thank your parents if you were born with an awesome name. For the rest of us, celebrities included, a stage name or pen name could make the world of difference.
---
Blogging is a great way to show off your expertise, hock your products and services or earn a bit of money through display advertising. Many bloggers who are starting out want to know how to grow their blog's audience, while playing a game of trial and error.
---
A recent study found a sure-fire way to increase blog traffic when an interesting trend emerged while analyzing reader engagement. Certain words used in blog headlines decreased the likelihood of the link getting clicks. Read on to find out which words had a negative impact on click-through rates.
---
A common problem faced by bloggers are troll comments and self-promotion. Trolls get a kick out of making people angry or getting into arguments. If want to allow commenting on your blog and what to reduce negative commentary, some extra plugins may have.
---
What do you really know about how Google search engine ranking works and decides what page is shown in the number one position? The simple truth is that only Google knows, and the reality is far more complex.
---
Have you ever fallen for Facebook spam links? Facebook scamming is big business, estimated to be worth $200 million to criminals. It's very important to be aware of such Facebook scams and never blindly trust links and ads you find on social networks.
---
Great friends and colleagues can be supportive, harmless, energetic and fun to hang around. But what about those people who complicate your life, constantly complain, or expect too much of you? To un-friend, or not to un-friend?
---
The hot new trend called responsive web design that has taken hold of websites the world-over. The reasons for this trend should not come as a shock to anyone, however it's importance may send a shiver down the spine of website owners without a responsive web design.
---
EXCLUSIVE DOWNLOAD AVAILABLE
Enter your
Twitter username
below to
receive this
FREE eBook
PDF download.