Bitcoin, the digital currency of the Internet, is taking the world by storm. Due to the intense interest, various regulatory bodies around the world, especially in the US, are scrutinizing bitcoin more than ever. For those of you who want to know how to buy or sell bitcoins for cash, avoiding the major exchanges is a warranted course of action.
For readers unfamiliar with bitcoin, here's a refresher:
Bitcoin Mining Goldrush Has Begun
Bitcoin Is Money And Money Is Regulated
Due to fears of US regulation and strict laws regarding anti-money laundering, many of the big bitcoin exchanges like Mt Gox have faced severe issues when dealing with customers in the US. In fact, Mt Gox is not even a US company, they are based in Japan, however this has not stopped the US regulatory body FinCEN from all but crippling their business.
Mt Gox will prevail but not without sustaining serious damage to it's reputation and trust in it's business operations. All bitcoin exchanges are now considered to be 'Money Services Business' (MSB) under the law and need to register for a permit or licence to operate.
Bitcoin holders are looking for alternatives to buy and sell bitcoins for cash while avoiding any type of MSB exchange that might fall under regulatory laws.
To comply with these laws, exchanges also require customers to become "verified" – that is, you need to give away all your personal information to a faceless corporation.
The verification process can turn off a lot of people. This is not due to bitcoin holders taking part in illegal activity, but rather legitimate, law-abiding individuals who believe in liberty and freedom to sell digital 1's and 0's to people seeking to buy them.
How To Buy And Sell Bitcoins
New entrants to the bitcoin market and alternatives to exchanges such as LocalBitcoins allow people to buy and sell bitcoins directly with each other.
This one-to-one interaction takes the form of a personal trade, effectively bypassing regulatory hurdles faced by the big exchanges. LocalBitcoins is not an exchange. It's a platform bringing like-minded people together to organise trading between themselves.
Up-to-date pricing can be seen in this widget:
When you first arrive at LocalBitcoins, you'll see a well-presented list of people near your location who are selling or want to purchase bitcoins.
So, if you want to sell your bitcoins, have a look through the 'Buy Bitcoins' list and see what other traders have put up. You can get a good idea of the pricing and methods of payment they accept (usually cash or bank deposit).
When you are ready to jump on board, sign up, verify your email address and login. For added security, also enable 2-Factor Authentication.
Then click on 'Wallet' in the menu and you come to this screen.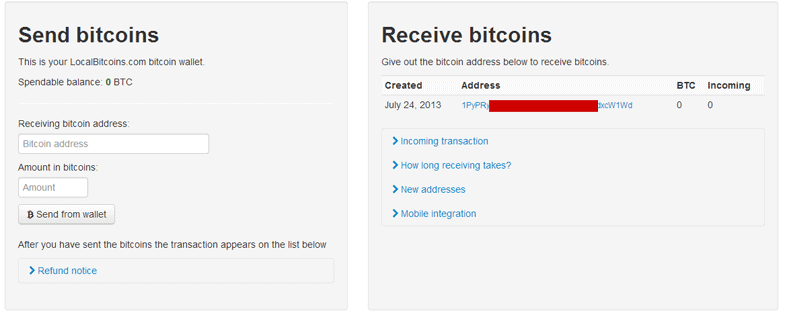 For the protection of both buyers and sellers, your bitcoins are held in the LocalBitcoins wallet. This ensure that:
You have bitcoins to sell, and
The buyer only gets the bitcoins once payment is verified.
Your wallet address is unique to your account. You can send some bitcoins to that address for holding until you have a buyer. If you have a lot of bitcoins, don't send them all at once.
Sell Bitcoins For Cash
Next, you'll want to post an advertisement. Click on 'Post A Trade' in the menu.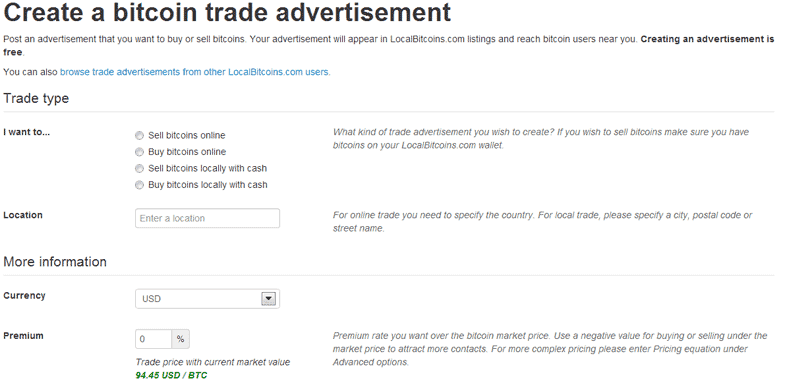 Go through the options carefully, where you can nominate your local currency, location, payment method, etc.
Tick the Advanced checkbox.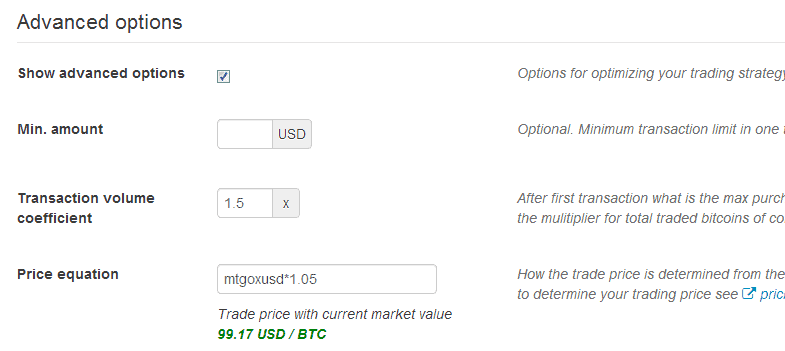 Price Equation
The 'Price equation' field calculates the current exchange rate for bitcoins in real-time. For simplicity in this example, we'll stick with the default Mt Gox USD exchange rate, denoted by 'mtgoxusd'.
This equation lets you add any amount of profit on top of the current exchange rate. If you were to purchase bitcoins and then sell soon after, you could profit by trading in this manner.
In this example, the equation mtgoxusd*1.05 means "take the current exchange rate from Mt Gox in US Dollars and multiply that by 1.05". That would be a 5% increase on the current exchange rate, where 1.25 would be 25% increase.
You'll need to stay competitive with other sellers, so keep your profit margin less than 10%.
Let's get a bit more advanced.
Sometimes, Mt Gox could be down and unreachable, so you could add another exchange into the equation:
max(mtgoxUSD,cbxUSD)*1.06
This formula takes the higher value of either Mt Gox or CampBX.
Bitcoin prices also fluctuate, so we want the formula to respond immediately to sudden increases in the exchange rate, but also gradually to drops in the exchange rate, using the 24 hour average:
max(max(mtgoxUSD,cbxUSD), USD_24h)*1.06
Publish your advertisement and wait for your first customer.
Buying bitcoins is just as easy as selling through LocalBitcoins, and with price fluctuations and a bit of patience, profits can be made by buying low, selling high.
When you know how to sell bitcoins for cash, it's really a piece of cake.
*IMPORTANT* This article does not constitute financial advice and you are fully responsible for your own decisions.
Disclaimer: Links to 3rd party sites included within this article denoted with /go/ in the URL may result in commission being earned if you decide to make a purchase.
Posts related to How To Buy And Sell Bitcoins For Cash Without The Regulatory Hurdles
Bitcoin Mining Goldrush Has Begun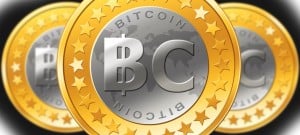 Why Clicking On Facebook Spam Links Can Land You In Hot Water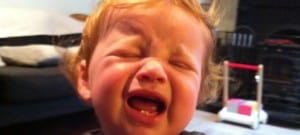 How To Use Bitcoin QR Codes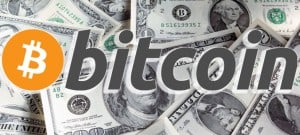 Top 10 Ways Of Making Money Online And Work From Home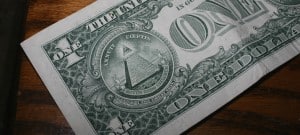 Tags:  bitcoinsbuy bitcoinsbuying bitcoinssell bitcoinsselling bitcoinstrading bitcoins