eBay is a fantastic marketplace for both buyers and sellers, but there are several reasons you may want to look for auction sites other than ebay.
To the seller, eBay's fees can become a heavy burden to your bottomline, effectively pushing up the price of your goods to keep a healthy profit margin, or forcing you to absorbing those fees resulting in a loss of profit.
To the buyer, eBay is a hodge-podge of millions of disparate products where you really need to know exactly what you're looking for.
Auction Sites Other Than eBay
1. eBid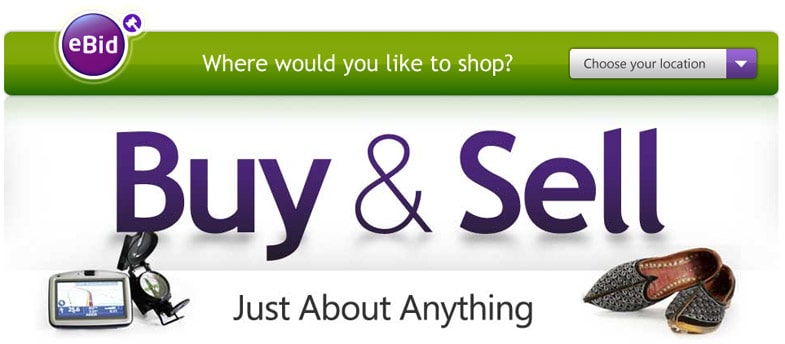 eBid is one of the best eBay alternatives bringing in buyers and sellers from all over the world.
With over 3.5 million auctions in more than 13,000 categories, you should have no problems finding just about anything to buy on eBid.
Sellers also have the advantage of lower fees compared to eBay with 3% final value fee for casual sellers, or 0% for Seller+ who pay a flat rate membership fee.
2. Flippa

With over 200,000 registered users, Flippa is a marketplace for buying and selling websites and domain names ranging from just a few dollars up to 6-figure sales.
I covered one such sales in Warning! Websites For Sale On Flippa Fail To Get Return On Investment.
Website sellers can do very well on Flippa (named for "flipping" – create, grow traffic, sell) due to the large audience and willing buyers.
Website buyers should always be cautious when making investment decisions and to thoroughly research potential purchases.
3. Triple Clicks
Triple Clicks is a daily deals site offering heavily discounted products through live "penny auctions."
Prices start at just one cent, where each bid received increases the price by one cent. The final bidder may then buy the item for the ending price, which tends to be a fraction of the normal retail price for the product.
You will need TripleClicks "TCredits" to buy or sell on the site, which comes in packs of 1, 10, 20, 50, and 200 starting from 29 cents each.
4. uBid
Boasting more than six million members, uBid
is an online marketplace for new, overstock, closeout and recertified products.
Many items from 25 categories are discounted including Fine Art, Collectibles, Jewelry, Travel and Electronics with daily deals, auctions and fixed-price 'buy now' options.
Registered merchants can sell products with no listing fees with a success fee of 5%.
5. CQout
CQout, or "Seek You Out", is a world-wide online market place and auction community, based in the UK.
While the website design is a bit old-fashioned, CQout continues to list over 2 million items for sale rivaling it's closest competitors.
Items successfully auctioned at CQout.com are subject to a 1.5% final value fee, which is significantly lower than most other online auction sites that charge final value fees.
6. Webstore
While most other online auction sites charge fees for listing or final-value fees, there are no fees what-so-ever at Webstore, whether you're a buyer, occasional seller or online storeowner.
The free service is subsidized by advertising, so if you don't mind a few ads and an old-fashioned site design, this is a great place to buy and sell online.
7. Bidz
Bidz is the largest 100% authentic brand name & jewelry auction marketplace offering jewelry, watches, sunglasses, and other accessories.
Bidz is a part of a small group of auction sites other than ebay that specialize in jewelry and couture. Brands listed on the website include Gucci, Chanel, Roberto Coin, Autore, Disney, Chrome Hearts, and many more.
Bidz promises a 100% moneyback guarantee if any item received was not authentic or not as described, making it a safe place to shop.
8. Liquidation.com
Liquidation.com is a marketplace where professional buyers can source commercial and government surplus.
Bulk lots are sold by the truckload, pallet, or small package and the condition of items range from brand new to used and damaged including clothing, computers, electronics, housewares, industrial equipment, vehicles, and much more.
Buying in bulk reduces the cost of acquisition with heavily discounted items, many of which are in perfect condition.
9. Government Liquidation
If you're in the market for military or government equipment, check Liquidation.com's sister site Government Liquidation which is the exclusive contractor of the DLA Disposition Services for the sale of surplus and scrap assets of the United States Department of Defense (DOD).
You are able to purchase vehicles, aircraft, boats, electronics, machinery, scrap metal and clothing.
10. Tao Bao
Tao Bao is *the* eBay equivalent in China, serving millions more people and billions of dollars/yuan more than eBay does itself.
Tao Bao is bigger than eBay in both userbase and revenue. Products are often far cheaper on auction sites other than ebay and any Western-world competitor and merchant are just as reliable as their American counterparts.
There's a catch though… it's all in Chinese!
Chrome browser does a reasonable job translating the text into English, however this may not help when it's time to communicate with the seller or make payments.