Using real names in the business world is essential to maintain trust and honesty. Unfortunately, having an ordinary real name does you no favors. Printing your ordinary name on an ordinary business card looks like you're handing out a sample from the printing company.
To those of you born with interesting names, be sure to thank your parents because names make a big impression on people. Celebrities generally don't change their names to flee from the law or for more mundane privacy reasons.
When actors are forced to change their real names, sometimes it's because of rules governing the Screen Actors Guild that says no two members can have the exact same name. For example, this rule forced Michael Douglas (not the one who played Gordon Gecko) to become Michael Keaton (the one who played Batman).
In our companion article 30 Celebrity Stage Names You Thought Were Real, you'll find out which celebrities use a sneaky stage name rather than their real birth name. Some may surprise you!
But continue reading as you may be gobsmacked to learn of some celebrities with real names you'd swear they made up, but are in fact their birth names!
1. Elon Musk
A serial entrepreneur who could easily release a scented perfume in his own name, Elon Musk is the co-founder of Paypal, the online payments processor. Paypal was bought by eBay in 2002 for $1.5 billion giving Elon an enormous windfall of cash.
Elon shot for the stars (literally) and created Space Exploration Technologies, known as SpaceX which was the first private company to successfully launch and dock a spacecraft with the international space station.
Back down on Earth, Elon also started an all-electric American car company called Tesla Motors that manufactures affordable electric vehicles.
---
2. Wolf Blitzer
Sounding like he can slay wild animals with his bare hands, Wolf Blitzer is an American journalist and CNN news anchor known for his in-depth reporting on international news.
Blitzer has won many personal awards for journalism as well as being on the team reporting during 1991 Gulf War. He has also been awarded several honorary Doctorate of Humane Letters.
Over the decades, Blitzer has reported on a wide range of major breaking stories around the world that have shaped the international political landscape.
---
3. Jude Law
The Beatles weren't singing about him, but many women certainly do. British heart-throb Jude Law started acting at the age of 12.
He learned ballet dancing for the film A.I. Artificial Intelligence and was nominated for the Academy Award for Best Supporting Actor for his performance in The Talented Mr. Ripley. He's also appeared as Dr. Watson in Sherlock Holmes alongside Robert Downey, Jr.
He's quoted as saying, "Face it, I didn't become famous until I took my clothes off."
---
4. Quentin Tarantino
Director of Django Unchained, Inglorious Basterds, Pulp Fiction, Kill Bill Vol.1 & 2 with his film debut in 1992 of Reservoir Dogs, Quentin Tarantino has made a series of cult classics amassing a huge following.
In 1996, Quentin was planning to direct an episode of "The X Files" at the height of it's popularity, however he refused to join the Director's Guild of America and subsequently could not direct.
His movies often feature violence mixed with subtle humor and favors working with actors Uma Thurman and Samuel L Jackson.
---
5. Cassius Clay (aka Muhammad Ali)
Born Cassius Marcellus Clay, Jr., Muhammad Ali changed his name after converting to Islam in 1964.
At the age of 22, he won the world heavyweight boxing championship and was nicknamed "The Greatest".
Ali's title would be stripped after his refusal to be drafted to Army service, only to return years later facing off against heavyweight boxing champion George Foreman in 1974 in a bout nicknamed "The Rumble in the Jungle". Against the odds, Ali regained the title.
Ali was diagnosed with Parkinson's disease in 1984, possibly brought on by head trauma suffered during his career in boxing.
---
6. Val Kilmer
First becoming popular in the mid-1980s appearing in Top Gun, Val Kilmer received critical acclaim for his performance as Jim Morrison in Oliver Stone's The Doors. The real members of the band said they had difficulty distinguishing Kilmer's voice from that of Morrison's.
Following his rise to stardom, Kilmer acted his way into Bruce Wayne's shoes in Batman Forever – the only blonde actor to have played Batman.
Val apparently turned down Patrick Swayze's role in Dirty Dancing because he didn't want to be perceived as a "hunk."
---
7. Channing Tatum
His name sounding like a Gregorian chant to be repeated with a fulfilling 'ohmmm', Channing Tatum's career began as a fashion model and cast as a dancer in Ricky Martin's "She Bangs" music video.
He has starred in films She's The Man, Step Up, 21 Jump Street and Magic Mike.
---
8. Humphrey Bogart
Widely regarded as a cultural icon and amazingly born in the 1800s (Christmas Day, 1899 to be exact), Humphrey Bogart shot to stardom as an actor in the 1930s rising to the peak of his profession with his performance in Casablanca.
Bogart was a founding member and the original leader of the Rat Pack, consisting of other icons of film Frank Sinatra, Dean Martin, Sammy Davis, Jr., Peter Lawford, and Joey Bishop. The "Rat Pack" was named by Bogart's 4th wife, and another Hollywood icon, Lauren Bacall.
He appeared in 75 feature films.
---
9. Powers Boothe
Faster than a speeding bullet, Powers Boothe sounds like he could beat superman in a race around a department store.
Boothe appears mostly in TV (24, Deadwood) and also cinema such as Sin City and The Avengers.
He's been quoted as saying "I've done love scenes with Jessica Lange and Jennifer Lopez, and I won't kid you, they're fun."
---
10. Charlize Theron
This beautiful bird was born in South Africa with a name that sounds just like… well… a beautiful bird, Charlize Theron is an actress and fashion model who's won the Academy Award for Best Actress and the Golden Globe Award for Best Actress amongst many others.
Early in life, she has danced ballet in "Swan Lake" and "The Nutcracker" but a knee injury put a stop to her dancing career.
Charlize has starred in Prometheus, The Italian Job, Mighty Joe Young and Monster for which film critic Roger Ebert called her acting "one of the greatest performances in the history of the cinema".
---
11. Mary Elizabeth Mastrantonio
Sounding like a descendant of royalty, Mary Elizabeth Mastrantonio is an actress who has starred alongside Al Pacino in Scarface and in The Color of Money, which earned her an Academy Award nomination for Best Supporting Actress.
She's also worked in television starring in Without a Trace, Grimm and playing Captain Zoe Callas in Law & Order: Criminal Intent.
---
12. James Van Der Beek
Perhaps best known for his portrayal of lead character Dawson Leery alongside Katie Holmes, Michelle Williams, and Joshua Jackson in Dawson's Creek, Beek sounds like he'd be right at home on the waterfront.
In 2002, he played Sean Bateman in The Rules of Attraction, which was initially a box office flop, but found a cult following on DVD.
James also featured in Kesha's music video for "Blow".
---
13. Soleil Moon Frye
With a name that could tame planets, Soleil Moon Frye shot to stardom as a child actor playing Punky Brewster and also joined the cast of Sabrina The Teenage Witch.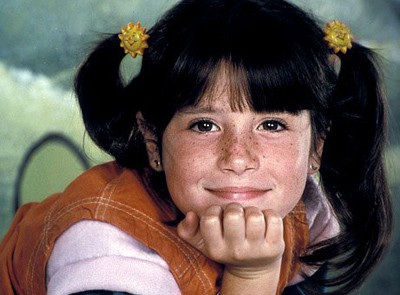 She frequently lends her voice to animated characters for TV.
---
14. Keira Knightley
As her name suggests, like defending the crown of the realm, Keira Knightley's role as the decoy queen in Star Wars: Episode I – The Phantom Menace was kept secret throughout the film's promotion, maintaining that Natalie Portman played both the Queen and the decoy.
The similarity between Knightley and Portman meant that during the filming, their own mothers could not tell them apart once in makeup.
Her filmography also includes Bend It Like Beckham, Pirates of the Caribbean, Love Actually and Pride & Prejudice.
---
15. Forest Whitaker
Smarter than the average bear, vegetarian Forest Whitaker ran with films Platoon, Stakeout and Good Morning Vietnam.
Forest was originally cast in the role of "Sawyer" on "Lost", but later opted out.
He has said his droopy eye condition is genetic, passed down from his father.
---
We still have 15 more celebrities to take a look at. You may be surprised to find some of your favorite famous names were not made up, but are in fact their birth names!
16. Jennifer Love Hewitt
What's not to love about Jennifer Love Hewitt? Right, guys? Jen rose to fame starring in Party of Five and a lead role in the horror film I Know What You Did Last Summer.
Jennifer had mixed success in music with her song How Do I Deal charting thanks to featuring in the movie soundtrack.
---
17. Antonio Banderas
He's a Puss. And he's in Boots. Although his tough guy name doesn't lend well to his singing and dancing, voice of Puss In Boots from the movie Shrek, Antonio Banderas can also slice a mean 'Z' right into your shirt.
Also know for his role as Zorro The Mask of Zorro, he's also starred in Assassins, Evita, Interview with the Vampire, Philadelphia, Desperado and Spy Kids.
He has his own cologne brand for men and has been quoted as saying "There is nothing in the world that cannot be cured by love." Aww. You old Spanish romantic, you!
---
18. Boutros Boutros-Ghali
Got to love the double name. Boutros, the Arabic version of Peter, is an Egyptian politician and diplomat who was the sixth Secretary-General of the United Nations (UN).
His grandfather had been Prime Minister of Egypt for 2 year before being assassinated in 1910.
His unique name is frequently mentioned in comedy TV shows, such as Seinfeld, King of The Hill, Friends and was interviewed by Ali G in a comedy sketch.
---
19. Yo-Yo Ma
Grammy Award winning, French-born American cellist and virtuoso, Yo-Yo Ma is another unique name frequently cited in comedy TV shows. Here is a double whammy from Seinfeld.
Ma was also seen with former Apple CEO Steve Jobs, often invited to perform on stage during event keynote presentations, as well as appearing in a commercial for the Macintosh computer.
---
20. Edward Woodward
How much wood could an Edward chuck if Edward Woodward chucked wood?
This British actor and singer was awarded the OBE (Officer of the Order of the British Empire) and rose to stardom in the mid-80s thanks to the The Equalizer, earning him the 1986 Golden Globe Award for Best Television Drama Actor.
He's landed lead roles in TV and also made a brilliant performance in the original version of The Wicker Man and also in Breaker Morant.
---
21. Leonardo DiCaprio
With a similar name to the famous artist Da Vinci, Leonardo DiCaprio has risen to become the "king of the world" of entertainment.
Leo got his start in the TV show Growing Pains and became truly recognised for his acting prowess in What's Eating Gilbert Grape and Romeo + Juliet.
Not even icebergs could crash this rising star after stellar performances in Titanic, The Beach, Catch Me If You Can, The Aviator, Shutter Island, Inception, Django Unchained and many other great films.
---
22. Dick Van Dyke
With a lengthy span of 7 decades – his career, that is, Richard "Dick" Van Dyke is an American actor and comedian starred in the films Bye Bye Birdie, Mary Poppins and Chitty Chitty Bang Bang and in the TV series The Dick Van Dyke Show and Diagnosis: Murder.
Ambidextrous, Dick dabbled in computer animation since the 1980s. Using Newtek's Lightwave 3D from home, he created and animated a CG version of himself that he danced along with as seen in The Dick Van Dyke Show Revisited (skip to 6:50 min).
"Van Dyke" on his star on the Hollywood Walk of Fame was misspelled as "VANDYKE". At the revealing, he laughed, took a pen and drew a slash between "VAN" and "DYKE". The star was corrected soon after.
---
23. Billy Bob Thornton
With such a pointy name, William Robert (Billy Bob) Thornton drew blood from Wife #5 in Angelina Jolie, most famously wearing one another's blood in vials around their necks.
Jolie once had a tattoo in the name of her 2nd husband "Billy Bob", which she has since lasered off her skin.
He has starred in The Man Who Wasn't There, Sling Blade and Bad Santa.
---
24. Danny Elfman
It's no surprise that with such a cartoony name, Danny Elfman, American composer and musician created The Simpsons main title theme.
He's also well known as the lead singer and songwriter for the rock band Oingo Boingo as well as providing the musical scores for most of Tim Burton's movies.
Elfman has worked on Terminator Salvation, Spider-Man 1 & 2, Men in Black trilogy and dozens of other movies.
---
25. Leonard Nimoy
"Live long and prosper" as the aliens would put it. Well, only if they were half human, half alien. Leonard Nimoy is best known for his role as Spock in the original Star Trek series.
Nimoy wrote two autobiographies, the first in 1975 titled I Am Not Spock. Later, relenting with the second in 1995 titled I Am Spock.
He was best man at co-star and good friend William Shatner's third marriage, and still has the last pair of Spock's ears he wore on the series, as a memento.
---
26. Yoko Ono
Imagine all the people angry with this woman, whose name translates to "ocean child" she caused quite a storm during her marriage to John Lennon. Both the public and media blamed for the breakup of The Beatles.
During Lennon's last two years in The Beatles, he and Ono began public protests against the Vietnam War.
She is a Japanese artist norn in Tokyo and an avid peace activist with her work in avant-garde art, music and filmmaking.
---
27. David Hasselhoff
To the surprise of some American's from his home country, 'The Hoff' (as he calls himself) is not just an actor, but also a singer who's very big in Germany and Eastern Europe, selling millions of records.
He is best known for his lead roles as Michael Knight in the popular 1980s US series Knight Rider and as Lifeguard Mitch Buchannon in the series Baywatch, running in slow-motion down the beach alongside Pamela Anderson.
---
28. Uma Thurman
Former model who was 5 foot 10 by age 13 and named after the goddess of light and beauty in Indian Mythology, Uma Thurman earned her an Oscar nomination for Best Supporting Actress for her role in the Quentin Tarantino classic Pulp Fiction.
Director Quentin Tarantino (also on this list – see page 1) considers Uma to be his muse. Along with Pulp Fiction, she starred in his films Kill Bill Vol 1 & 2.
Uma describes herself as 'Tall, sandy blonde, with sort of blue eyes, skinny in places, fat in others. An average gal'.
---
29. Shaquille O'Neal
One of the heaviest players ever to play in the NBA standing at 7 foot 1 inches, Shaquille O'Neal overpowered his opponents on the court with the 'Shaq Attaq'.
In addition to his basketball career playing in 6 teams, Shaq has released four rap albums, with his first, Shaq Diesel, going platinum.
---
30. Gwyneth Paltrow
Not too fond of paltry poultry, wife to Chris Martin from Coldplay and daughter of Hollywood star Blythe Danner, Gwyneth Paltrow has won an Academy Award for Best Actress, a Golden Globe Award and two Screen Actors Guild Awards.
Gwyneth once dated Ben Affleck, reportedly is good friends with Madonna, and also became engaged to actor Brad Pitt but the two did not marry.
She speaks French and did her own singing in the movie Duets. Her godfather Steven Spielberg had her play Wendy in flashbacks for his film Hook.
---
Having an interesting name can certainly get you places and celebrities are the perfect example of this. Luckily for the folks in this list, they were born with fantastic names.
But what about those celebrities born with boring names? That's what stage names are for!
Read our next article 30 Celebrity Stage Names You Thought Were Real to discover which of your favorite celebrities have been deceiving you with fake names.