Tick tock tick tock. Ever get the feeling that time moves slower in the office than anywhere else? Well, stop counting down the seconds until lunch time and step on into the world of desk toys. No, not converting your paperclips into little sculptures, that is so last week.
Instead join the ranks of your happy and entertained work colleagues and check out these five amazing desktop office toys that will surely decrease your productivity!
Desk Toy Tengu
Ever wanted a companion to help you sing your favourite songs?
Let me introduce Tengu, your new best friend, or at least the face and legs of your new best friend.
Tengu, invented by some clever Japanese people, plugs into your USB port and responds to any sounds. He likes it when you talk, sing and even sneeze!
If you stop entertaining him with noise, he will fall asleep, but you can wake him up and change his facial expressions by blowing on him. Tengu has red LED facial features, including a mouth which moves in time with the sounds he is hearing. He is only 3 inches tall and connected to a 3 foot USB cable, so he is easily portable too.
What else could you ask for in a desk top friend? Perhaps one that cleans up after you!
Robo Vaccuum
Crumbs, crumbs everywhere and not a single one worth eating. Unless of course your name is Robo Vacuum!
He is the 'after lunch crumb muncher' who lives on your desk. Turn him on and push him around and he will eat all the little crumbs that you don't want.
Robo Vacuum is a battery operated mini desk top vacuum which will pick up small bits of fluff and stuff off your desk. It does not have wheels; instead it has a rubber pad to ensure it moves smoothly over your desk.
It's arms are moveable so you can position them anyway you like and it comes in red and black. Great for us muffin and cookie munchers. Our cleaners will thank us too!
Desktop Toys Racing Grannies
Picture this, two grannies wearing their cardies and slippers, pushing their Zimmer frames and each determined to beat the other one in a race.
Well, now that is possible thanks to these wonderful desk top Racing Grannies.
Put them on the start line, wind them up, shout "Ready, steady, go!" and watch them put their pedal to the metal.
If that wasn't funny enough, you can even give them a handicap to slow them down, especially if one Granny is having a super speedy day. The Zimmer frames hold a little shopping basket in which you can place essential supplies such as paperclips and staples.
This could also be useful if you were wondering how you were going to get your bluetack from one side of your desk to the other!
Rockstar Finger Drums
WARNING: This video contains terrible jokes.
Our work colleagues can now sit comfortably at their desks and be entertained by a live rock concert. Sounds too good to be true? It's not, courtesy of our very own set of Finger Drums!
Featuring three little drums, a bass drum and a cymbal, this musical desk top toy is ready and waiting to be played from the top of your desk. We can tap out well known tunes or invent songs to our hearts content and when we stumble onto a good tune; with the press of a button we can record it for playback later on to the delight of your co-workers.
Have a PA system at work? Play a little ditty before speaking your message to your work colleagues. It will sure get their attention and then there is more chance that they will remember what you say!
Overall this is a great desk top toy for drummers and non-musicians alike. But keep the ruckus to a minimum.
Desktop Tennis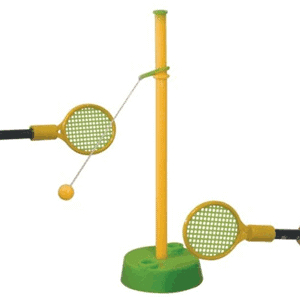 Fancy a game of tennis anyone? Challenging a colleague to a game of desk top swing tennis is as easy as putting your pencil into a racket handle and hitting the ball.
Those long slow hours will disappear so quickly as the little swing tennis ball bounces backward and forwards between the rackets. The swing ball pole sticks firmly to the top of your desk and the two little tennis rackets that are included have a hole at the end of the handle where you can put a pencil, giving yourself a longer handle.
Don't worry though; scoring the games is optional, depending on how good you are of course!
No longer do we need to dread the boredom of downtime in the office. Instead, by investing in a few small desk toys we can provide great entertainment, build team spirit amongst work colleagues and provide interesting conversation starters.
Who knew work could be so fun!