Often for new and old websites, search traffic can be hard to come by. The problem might be that your website doesn't have enough backlinks or you've got a bad selection of keywords. Commonly, webmasters are making SEO mistakes that can damage their Google ranking.
Traffic to your website can come from many sources, such as social media, mailing list blasts, direct hits and of course from search. However, not many webmasters are taking advantage of image search and you could be missing out on a lot of traffic to your website.
There is the argument that you shouldn't have your images indexed, either to protect your copyrights or to reduce bandwidth usage through your web hosting. There is also the argument saying that a user searching for an image can view it on Google's image page and never visit your website at all. Yes, that is certainly true, but I have proof that image search can result in real traffic and click-throughs to your website.
If you haven't done so already, I recommend signing up for Google Webmaster Tools (it's free), linking up your website and start collecting stats. For new additions, you'll need to wait a few weeks for data to be collected. These stats are different from the type of statistics you'll find in Google Analytics.
Once you're in Google Webmaster Tools and looking at your domain, go to Traffic > Search Queries. I want to show you this graph:

This graph depicts the number of impressions one of my test website's content is getting, whether it's images or links in the 'normal' results pages. An impression means my website has come up in results, but not necessarily been clicked on.
You can see that in a matter of days, impressions shot up from nothing to 40,000 per day. I'm guessing the reason clicks are less than 10 is the because these results are largely from image search and not from 'normal' search engine clicks. But the real click through rate can be determined through Google Analytics. Here is a screenshot of the same period.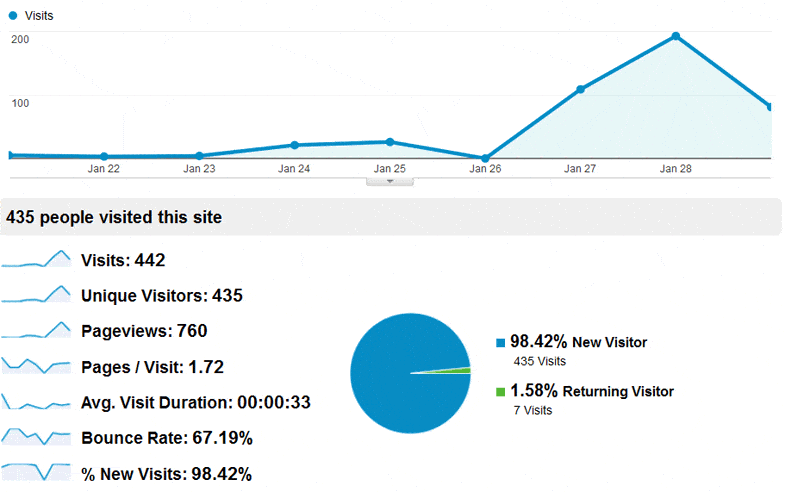 NOTE: When I first noticed traffic increasing on Jan 25, I decided to tweak the website and try leverage this incoming traffic. I inadvertently killed my Analytics code, so you can see a dip on the next day. I only fixed it the day after when I realized my mistake

Image Search Can Increase Website Traffic
So what's going on here? First we should realize that image search is wildly popular and generates a lot of impressions. My results here is from ONE image. Just ONE.
That one image brought in 435 individual people to the main website (or probably around 30 more, taking into account my Analytics mistake). Clearly, those visitors went on to browse the site with an average of 1.72 pages visited.
Let's not get crazy though. The click-through rate works out to be just 0.5%, but when your image is getting 40,000 impressions a day, it can be a really good day.
Image Search Lessons Learned
It was not my intention to run tests on image searches. Originally, I just had a short 200 word article with an image in the post. Nothing special. The original post had been online for 3 weeks prior to this huge upswing. So what did I do in the days prior to this huge upswing?
1. Image alt tags
A few days before the upswing, I ran a website analysis through Woorank that told me, amongst other things, that none of my images on the website had image alt tags. This was sheer laziness on my part because it was just a test website so I wasn't putting in the full SEO effort. Including image alt tags have been recommended in SEO circles since the dawn of time.
On the same day, I had just signed up for the free trial of Market Samurai (affiliate) to use as my primary keyword research software. I had a quick keyword research session and found some nice longtail keywords that I used in the image alt tags.
2. Image file names
Just the same as I did for my image alt tags, I renamed some images to the keywords I had found through Market Samurai. eg, long-tail-keyword.jpg
As a matter of prudence, I created a redirection from the old image filename to the new one, so that I wouldn't lose that traffic.
The result, as you can see in the graphs above, was phenomenal. I believe my keyword research, changing the image filename and adding the alt tags boosted impressions and subsequently brought in more 'real' traffic to my website where visitors continued to browse around.
3. Submit an image sitemap to Google Webmaster Tools
Did you know that your website's sitemap doesn't just contain links to pages and posts, it can include images as well? If you are using WordPress, Yoast's SEO plugin creates a well formed sitemap perfect for submitting to Google Webmaster Tools. The plugin can also submit sitemaps for you automatically and will update whenever you create new posts. If you don't have Yoast's SEO plugin, get it because it's great for other SEO tweaks.
Are you having success generating traffic with images?