More often than not, suits and neckties for men are essential attire in business and first impressions count a lot towards how you're perceived by others.
It's not about making a fashion statement. Our subconscious makes a split second judgement of someone's personality and character by the way they dress. This applies to being a boss, in a job interview, client meeting, on a date – wherever.
If you are looking just as dapper as your colleague or competition, what is it that gives you that edge before you've even uttered a single word? Yup, it could be your choice in neck tie that can actually make a difference in your fate.
Don't let a necktie become a noose around your neck and suffocate opportunities laid out in front of you.
There are several methods of tying a tie, resulting in different types of knot. Let's just take a quick look at the most common.
Necktie Knots
Four in Hand Knot – Simple Knot or Schoolboy Knot
The Four in Hand Knot is a narrow, asymmetrical tie knot that is best suited for a standard button-down dress shirt. It is the most common neck tie knot.
Half Windsor Knot
The Half Windsor Knot is a triangular and symmetrical tie knot that goes with any dress shirt.
Bow Tie Knot
This video shows how to tie a Bow Tie Knot, which is a formal and elegant look. Commonly, a bowtie is worn along with a tuxedo at "black tie events" such as a wedding. The bow size should not be wider than the neck and should not extend past the tips of the shirt collar.
If tying a tie is hassle or your fingers aren't nimble enough, thankfully we have other options!
Black Tie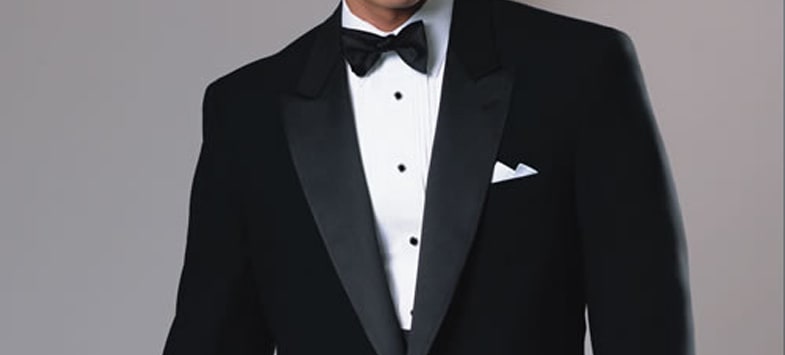 Black tie refers to the dress code that requires men to wear a black tuxedo, white dress shirt, black bow tie, and black dress shoes while women are to wear an evening gown.
A black tie event is very formal and all the guests look very classy. At these events though, all the guys look the same like a waddle of penguins.
If the occasion fits, for example in the workplace, we can rock a different tie color and show off our personality.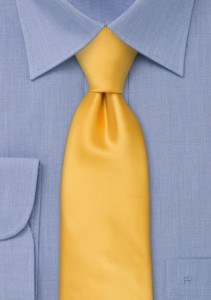 The Power Tie
Power tie color choices are mostly blues, reds and yellows. More than a just brightly colored necktie, the power tie is a declaration of dominance. The power tie should stand out, so the choice of shirt color should offer a contrast against the tie.
While I don't particularly believe in the whole psychology of power neckties for men, others might. So it's probably a good idea to avoid wearing a power tie to your first day of work in case your boss is a believer.
Christie Carmelle Lopez over at the Huffington Post wrote a great piece about power ties and the psychology of color here
Clip On Neckties For Men
If you have nightmares about your necktie getting caught in the paper shredder, never fear. Just get a clip on tie. A clip on tie attaches quickly and easily onto the collar and is comfortable and safe because there is nothing surrounding your neck.
I also have normal ties hanging in my closet that are already pre-tied from previous occasions. This is just a matter of convenience and time saving.
Although, you'd be hard pressed to find designer or brand name clip-on neckties. They can often be viewed as tacky but they do have their place.
While plain colors are usually a safe choice, there's also patterns and paisley ties.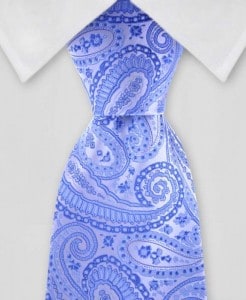 Tie Material
You can get skinny ties made from leather and other neckties for men that look like shoe laces, but in the workplace and for special events, your best bet is to go with the most commonly used fabrics.
– Silk Ties and Silk Knit Ties,
– Wool Ties and Wool Knit Ties,
– Cotton Ties,
– Linen Ties,
– Leather Ties.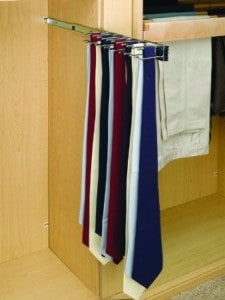 Tie Accessories
If you are a necktie aficionado, add a bit of bling to your tie with some accessories.
– Tie bars and Tie clips,
– Tie tacks,
– Tie chains.
For those of you that own many ties for different occasions, stay organized, neat and tidy with your own tie rack
Disclaimer: Links to 3rd party sites included within this article denoted with /go/ in the URL may result in commission being earned if you decide to make a purchase.
Posts related to Unsuitable Neckties For Men Suffocate Opportunities
Women Business Suits – Pants Suit Or Skirt Suit?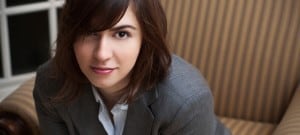 Work Shoes For Women – High Heel Shoes Or Cute Flats
7 Tricks To Grabbing The Best Domain Names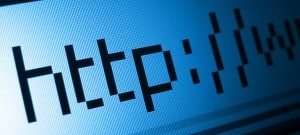 Why Bubble Wrap Is The Gift That Keeps On Giving
Tags:  black tiesbow tieclip on tiemens tieneck tiesnecktienecktie knotsneckties for menpower tiessilk tiestie rackties for men