When you have just met a potential customer, handing over visually appealing and creative business cards instead of a cluttered plain business card can mean the difference between getting a sale and seeing your business card go straight into the bin.
Everyone in business is familiar with business cards, ones with both good and bad designs.
Business card design is important because first impressions last. A horrible design can make the recipient feel like your business doesn't have much authority, leading to a lack of respect for your business.
Creative business cards are not just about the graphics and layout. Creative business cards take into account the actual material of the card, the card thickness and shape.
We discuss business card materials in detail at Amazing Business Card Design Ideas That Clients Wont Throw Away
Graphic Design Of Creative Business Cards
You probably have a few business cards scattered around your office or in your desk drawer. Take a good look at them. Notice which cards immediately stand out and shout "classy". Throw away the rest.
Here is a card I designed a while ago. It's double-sided.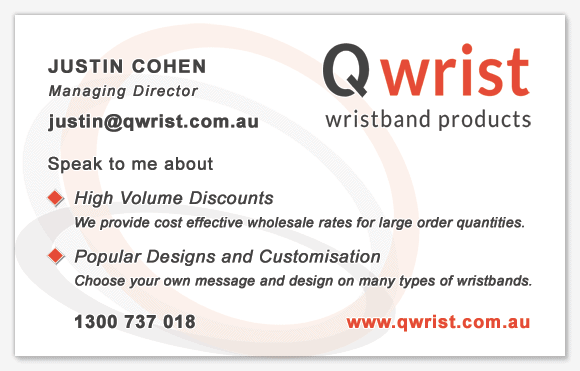 Some things you should take note of are:
Type of font and the size relative to the card and amount of text,
The white-space around the logo and blocks of text,
The line height of blocks of text (the space between lines),
Color usage in text, background and logo,
Position of logo, phone number, email address, person's name,
Whether the card has a double-sided design.
This is the other side of my card.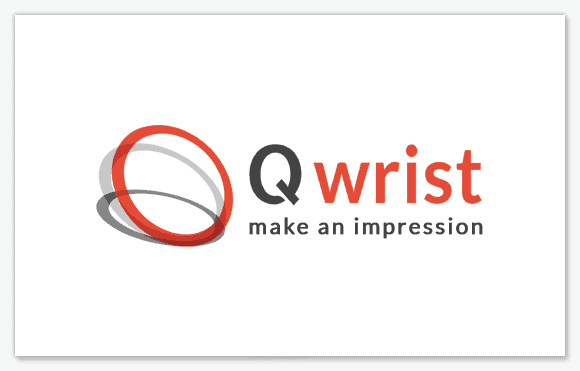 If you design your own card, they can be printed professionally online by companies like Uprinting.
Creative business cards don't need to be packed full of information, which can make the design look cluttered. In my particular case, I decided not to include a postal address on my business card. Why? I typically do business through email, so I felt the website and email address were more important.
Creative Business Cards Have Great Logos
A well-designed logo can have a large impact on the perception of your business. The same applies for badly designed logos giving a bad impression. It is better to have no logo at all than to have a badly designed one.
If you're not the creative type, you can purchase a ready-made logo online through 99 Designs and have it customized by the designer to your requirements.
I did this for the Qwrist logo and couldn't be happier with the results.
Once you have a great logo, it can take pride of place on your business cards, website, social media profile pictures, stationery and promotional material. Logos are pretty important, so get it designed by a professional.
Creative Business Cards Are A Marketing Tool
Your business card is not just a piece of paper with contact information on it. It's marketing material.
While you're talking to a potential customer about the benefits you can offer them, by the time they get home, that information has vanished from their memory.
Make sure your creative business cards include a succinct summary of the benefits your business offers. If you don't have the space on the main side of your business card, put this on the back.
Should You Include An Email Address ?
Dumb question, right? Well, that depends.
Yes, should absolutely should include your email address under only one condition: You have a personalized email address with your own domain name, not a free address like imanamateur71@gmail.com or your internet service provider.
Professionalism speaks volumes. If you don't have a website, that's not such a big deal. You could include your Facebook page address instead – as long as you frequently post valuable updates.
But you absolutely should have a personalized email address with your own domain name included on your business card.
That is, [email protected]
You can register a cheap domain at GoDaddy and setup an email address relatively quickly.
Let's look at a badly designed card.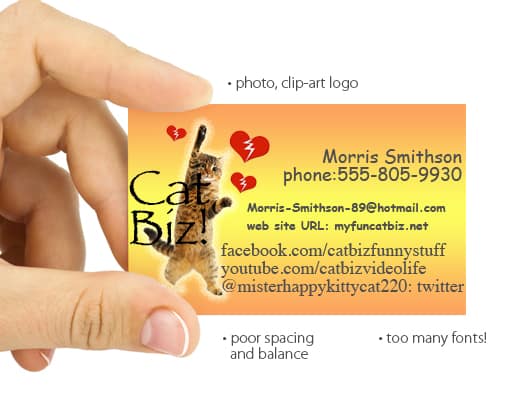 Source
Photographs rarely work well on business cards,
Avoid using clipart images,
Avoid high contrast background gradients (single color works best),
Keep blocks of text aligned both vertically and horizontally to other elements.
Creative business cards with a well balanced design along with an awesome logo for your business goes a long way to impressing potential customers. A great business card will result in more sales as well as more respect for you and your business.
What other tips do you have for designing creative business cards?
Disclaimer: Links to 3rd party sites included within this article denoted with /go/ in the URL may result in commission being earned if you decide to make a purchase.
Posts related to Creative Business Cards With Less Clutter Show More Class
Amazing Business Card Design Ideas That Clients Wont Throw Away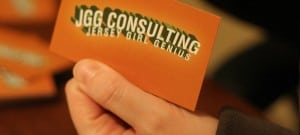 Why You Should Cut Your Business Credit Cards In Half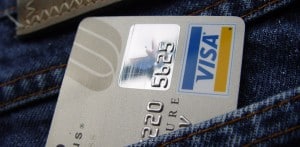 21 Amazing Facts About The Internet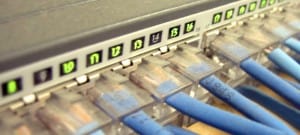 Cost Of Press Release – 5 Do's And 5 Don'ts To Save You Money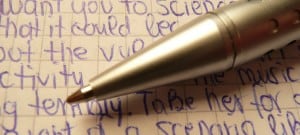 Tags:  business cardbusiness card design ideasbusiness cardscreative business cards